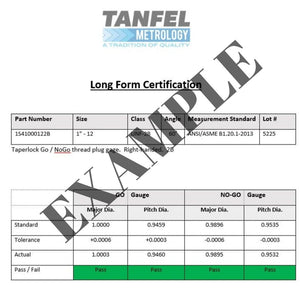 Tanfel Metrology offers a Long Form Certification which provides the critical gage dimensions and tolerances to ANSI / ASME B1.20-1-2013 standard.  Long Form Certificates show the Major Diameter, Pitch Diameter and Minimum Diameter for the Go and No-Go tips versus standard. Tanfel does not provide calibration stickers.
LONG FORM CERTIFICATES MUST BE ORDERED AT TIME OF GAGE PURCHASE.
PLEASE NOTE, IF YOU ARE PURCHASING A 5 PIECE SET, YOU WILL NEED TO PURCHASE A QUANTITY OF 5 LONG FORM CERTIFICATES.